"I've played in the Premiership and the Top 14 and believe me they are two different games. Sometimes you just need a little bit of difference in a team to spice it up. Over here I play with and against some of the best players in the world and they teach me things and it's always good to look at it from a different perspective. If they had given me a chance I'm telling you 100% I would have given everything I had."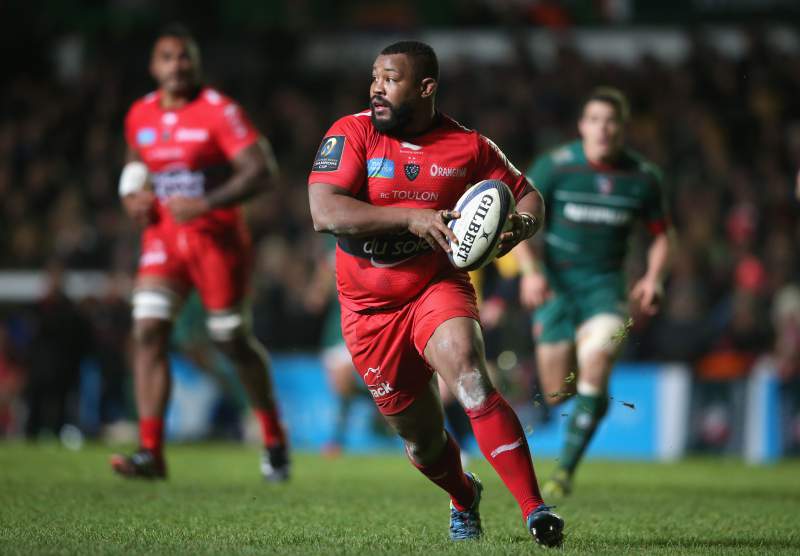 Speaking ahead of the opening games of this year's Six Nations the 30 year old has rarely discussed the controversial exclusion that followed a sensational season in France and was based on a short-sighted policy that precludes overseas players. Yet the decision still evidently burns and especially so after watching England meekly exit the tournament at the pool stages. His post-mortem verdict will strike a chord with rugby fans from Cornwall to County Durham.
"Everyone was too friendly and sometimes you need a nasty side to you when it comes to playing rugby and to further your career. You can't be friends with everyone and that's just the way professional sport is. If one of your mates is in the same position you have to do what it takes to get ahead of him. So maybe they were too nice with everyone saying it was a big family and a tight group. Maybe that was one of the problems."
The dismal campaign saw the end of Stuart Lancaster's reign as head coach and in Eddie Jones there was optimism for a new dawn with exciting new talent being given a chance to shine. Sadly his final 23 for the forthcoming Calcutta Cup clash with Scotland has a very familiar look to it with emerging stars such as Matt Kvesic not making the cut. Armitage is clearly frustrated. "I'll back England but I'm disappointed not to see a few faces in the team for the first game. Kvesic is a really good young player who is coming along nicely and he will be one of those players up there. He deserves a shot at playing in the Six Nations but now he has been released back to his club. He was one of the guys I was looking forward to seeing. Elliot Daly has been one of the stars of the Premiership and in Europe this year. Maro Itoje has been outstanding."
"Not to see them in the group….I don't know what kind of message it's sending because they'll be wondering what they have to do to get in there. But hopefully those guys will come back stronger. They're great players with a lot ahead of them."
"You have to put these players in when it's their time and you feel with Itoje that he's got there. He's doing it week in, week out for Saracens. Sometimes it's best to throw them into the deep end because otherwise when are you going to do it? This is the perfect time to do it."
While he may disagree on the Australian's lack of faith in youth there is however a decision he is wholly behind and it is one that has divided England fans. The naming of Dylan Hartley – who missed the World Cup due to disciplinary problems – as captain caused quite a stir with many questioning his leadership credentials. Armitage remains firmly in favour of the move. "It is definitely a risk but who else would you have? Dylan Hartley wears his heart on his sleeve and gives everything in the game. Sometimes he goes a little bit too far but that's because he's a passionate guy who wants to do everything for everyone. This could make him a much better player because he's got much more responsibility now at international level. When he's on his game he's the best hooker in England."
As for Armitage himself, a magnificent back row forward who would undoubtedly add to England's quality, he admits there has been no contact with Jones and is concentrating entirely on playing the best rugby he can for Toulon, a club he claims gave him the 'will to keep going' after a perceived rejection from England following injury. He still monitors developments closely of course from across the channel but though the disappointment is still evident perhaps time has added a philosophical slant on the matter. "If it happens somewhere down the line then everyone's dream is to play for their country. I've played five times and millions haven't so for me to say I should be there or deserve it…nah. I've just got to keep playing and loving it."
Quick-fire questions:
How will England fare against Scotland?
England to win.
Who will start at 7 for England against Scotland?
I would have said Kvesic but he's not playing. So Clifford.
Bet on England against Scotland
Who will win this year's Six Nations?
Ireland
Which player will be the tournament's top try scorer?
Anthony Watson
Bet on Six Nations top try scorer
Which player will be the tournament's top points scorer?
Dan Biggar
Bet on Six Nations top points scorer
Who will win this year's European Champions Cup?
Toulon